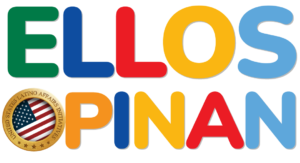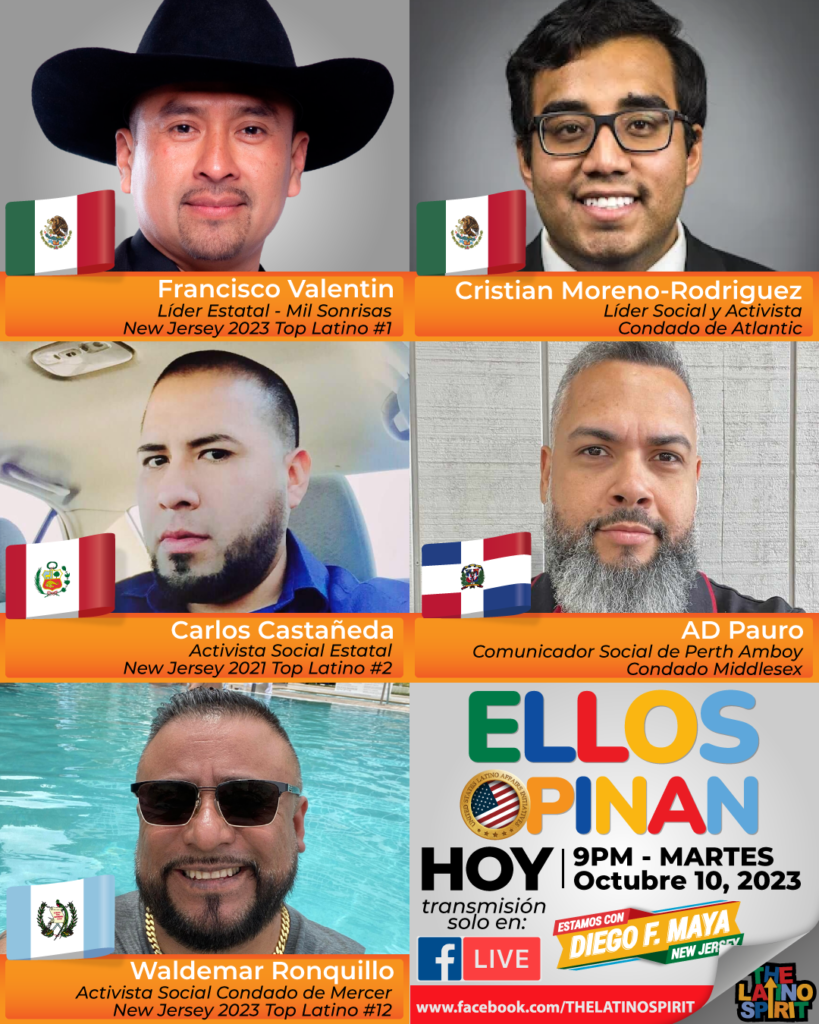 TEXTO EN INGLÉS
On October 10th, 2023 at 9PM, the independently owned Latino Spirit Media made history by broadcasting in Spanish the first of a four part series on the Latino Vote. The social media broadcast was made possible by a fellowship from The Center for Cooperative Media of Montclair State University. This broadcast was a first, as it gathered latino activists from different parts of the state from various nationalities. Diego F. Maya, a colombian native and a Latino public media producer asked five statewide Latino leaders WHY IS THE LATINO VOTING BLOCK THE SWING VOTE, WHY DO LATINOS PREFER TO STAY AT HOME RATHER THAN VOTE? and their thoughts on HOW CAN WE ENCOURAGE LATINOS TO GO OUT AND CAST THEIR VOTE. The broadcast provided a glimpse into Latino life and how it relates to elections, prior to the November 4 primaries. Carlos Castaneda a New Jersey COSECHA founder and social activist, Waldemar Ronquillo a Trenton – social activist and first guatemalan to run for a councilman at large position, Cristian Moreno-Rodriguez a social activist and founder of the Non-Profit Mi Pueblo, AD Pauro – a political satire and analyst in Perth Amboy and Francisco "Mil Sonrisas" Valentin a New Jersey Top #1 2023 Latino from New Brunswick – each answered the questions from a mexican, guatemalan, dominican and peruvian perspective. The one hour and 15 minutes cast titled "Ellos Opinan" (They're OPINION as in Men) garnered 1,030 views so far. The next Latino perspective analysis will be on October 24th – "Ellas Opinan" (They're OPINION as in Women) where five women from different nationalities and various parts of New Jersey also give their take on the Latino Vote.
#amor #importante #hablemoscomunidad #newjersey #futuro #vida #latinos #elecciones
TEXTO EN ESPAÑOL
El 10 de octubre de 2023 a las 9 p.m., Latino Spirit Media, de propiedad independiente, hizo historia al transmitir en español la primera de una serie de cuatro partes sobre el voto latino. La transmisión en las redes sociales fue posible gracias a una beca del Centro de Medios Cooperativos de la Universidad Estatal de Montclair. Esta transmisión fue la primera, ya que reunió a activistas latinos de diferentes partes del estado y de diversas nacionalidades. Diego F. Maya, nativo de Colombia y productor latino de medios públicos, preguntó a cinco líderes latinos a nivel estatal ¿POR QUÉ EL BLOQUE DE VOTACIÓN LATINA ES EL VOTO INDEPENDIENTE? ¿POR QUÉ LOS LATINOS PREFIEREN QUEDARSE EN CASA EN LUGAR DE VOTAR? y sus pensamientos sobre CÓMO PODEMOS ANIMAR A LOS LATINOS A SALIR Y VOTAR. La transmisión brindó un vistazo a la vida latina y cómo se relaciona con las elecciones, antes de las primarias del 4 de noviembre. Carlos Castaneda, fundador de COSECHA y activista social de Nueva Jersey, Waldemar Ronquillo, de Trenton, activista social y primer guatemalteco en postularse para un cargo de concejal general, Cristian Moreno-Rodríguez, activista social y fundador de la organización sin fines de lucro Mi Pueblo, AD Pauro. una sátira política y analista en Perth Amboy y Francisco "Mil Sonrisas" Valentin, un latino Top #1 2023 de New Jersey de New Brunswick, cada uno respondió las preguntas desde una perspectiva mexicana, guatemalteca, dominicana y peruana. El elenco de una hora y 15 minutos titulado "Ellos Opinan" obtuvo hasta el momento 1.030 visitas. El próximo análisis de la perspectiva latina será el 24 de octubre – "Ellas Opinan" donde cinco mujeres de diferentes nacionalidades y varias partes de Nueva Jersey también dan su opinión sobre el Voto Latino.
#amor #importante #hablemoscomunidad #newjersey #futuro #vida #latinos #elecciones
Un programa realizado por: